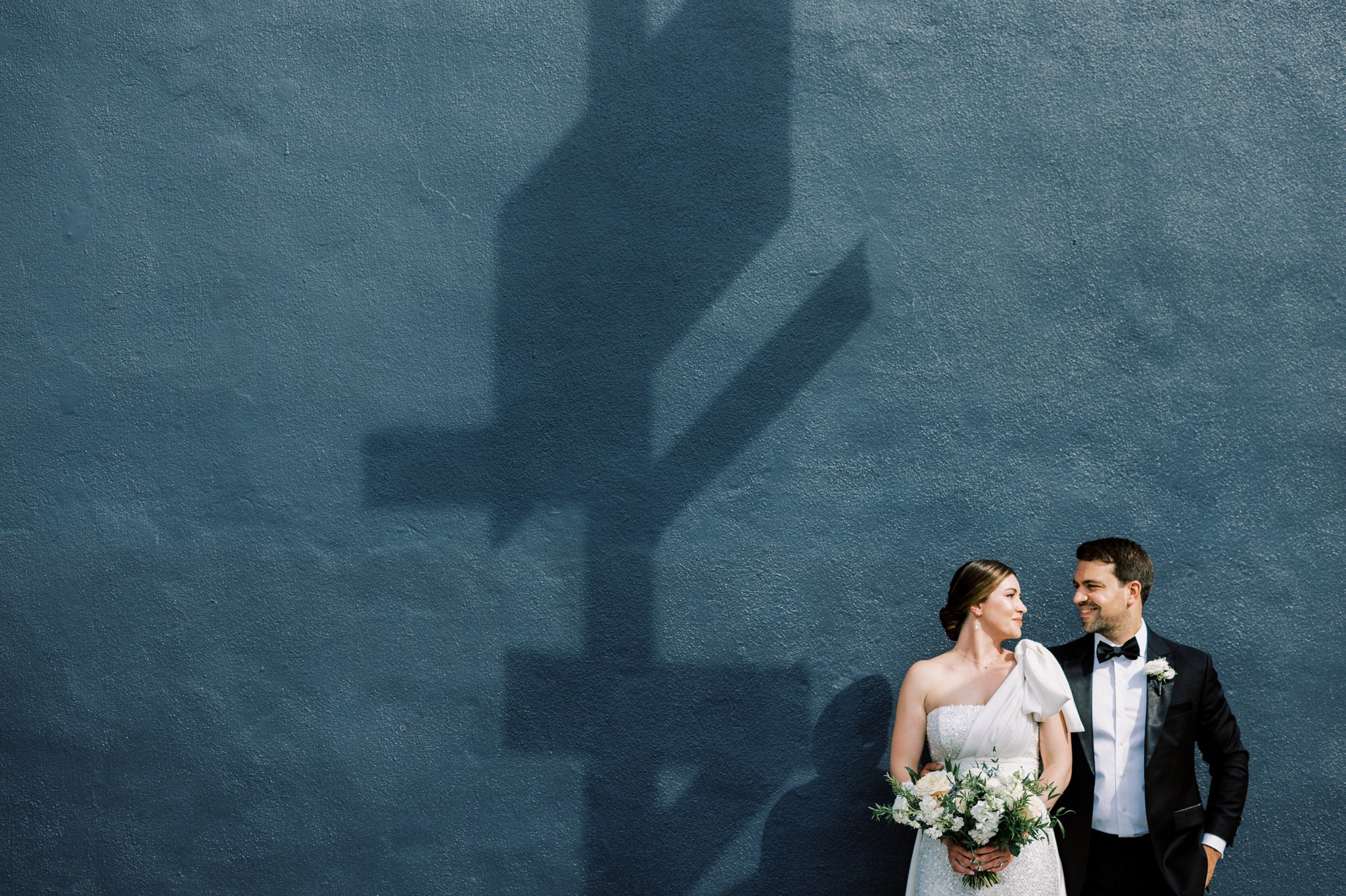 Share this on Facebook
Summer Wedding at the Wythe Hotel Brooklyn
Manhattan couple Erin and Adam celebrated their marriage at the Wythe Hotel Brooklyn in the center of bustling Williamsburg. As they embark on their new life together, they wanted to honor their rich heritages and family traditions while creating some of their own. They incorporated aspects of Adam's Palestinian heritage into their invitation suites, desserts, and décor. The traditional Palestinian dancers during the reception were phenomenal! This beautiful Brooklyn wedding was one for the books. Learn more about the unique Williamburg boutique venue below.
Let the Fun Begin!
Erin happens to be an event planner, so she has a keen eye for detail, design, and aesthetics. They tied the knot on a gorgeous summer day with a few intermittent thunderstorms (that added excitement and beautiful photo conditions but thankfully didn't interfere with plans).
Their day began getting ready in one of the sunny Wythe Hotel suites. After photographing all the curated details while capturing candid moments with everyone together, we started with a portrait session in the hotel suite. We especially love Wythe Hotel's rooms and suites for getting ready. The natural light streaming in from floor-to-ceiling windows is great for applying makeup and photographing those beautiful candid moments with you and your group. For additional backdrops, take in skyline view via balconies overlooking the city (which also makes for a great photo rain plan since we can stay undercover and take advantage of the natural light and minimalist architectural style and design.
When the bride was ready, Adam waited at the bottom of the modern staircase while Erin made her dramatic entrance down to meet him. We created striking couple's portraits as they looked out from the balcony toward the iconic Manhattan skyline. Then, we ventured out to 4th Street for portraits in Williamsburg, featuring an abundance of street art and graffiti for an authentic Brooklyn vibe.
To make the most of our daylight hours (and let them join in on the cocktail hour fun), we composed family and wedding party portraits in the courtyard ceremony space perfectly lit with soft daylight streaming overhead. The ceremony was intimate and fun and moved seamlessly into the cocktail hour in the adjacent courtyard area. They kicked off the reception with a champagne tower before their grand entrance, followed by dancing and toasts.
Wythe Hotel | Wedding Venue Details
Historic and trendy in the same sentence? The Wythe Hotel has mastered both with a beautifully curated industrial chic aesthetic, giving off industrial charm with modern-minimalist flair. Hotel venues are fantastic for hosting weddings with built-in accommodations.
The Wythe Hotel is known for being one of the original trendsetting boutique hotels in Williamsburg, Brooklyn, that has stood the test of time. Furthermore, the hotel boasts several coveted premier bars and restaurants that are often fully booked with lines out the door, so it is also a highly sought-after wedding venue!
Even better, after the reception, you and your guests can turn in for the night without a long walk or calling an Uber. People can stay out a little longer or grab drinks at the bar, and it makes it easy to gather for brunch the morning after, too.
Welcome to Williamsburg
Treat your guests to all that Williamsburg has to offer. The neighborhood showcases brilliant artists, musicians, designers, and makers of all backgrounds. Eclectic music venues, nightclubs, shopping, and restaurants are all within walking distance. (We joke about Williamsburg, calling it "hipster Disneyland" in the best way possible! It offers tons of unique experiences that are worth a weekend stay.)
Endless Portrait Opportunities at the Wythe
The Wythe offers a variety of backdrops and compositions inside and out. Step outside the hotel, and the surrounding neighborhood is also excellent for photos, with tons of authentic gritty Brooklyn charm. Inside the boutique hotel, take your pick of the styled spaces available for your wedding day:
Wythe Hotel Venue Spaces
The Main Hall
The Main Hall is a courtyard-like area for larger parties, easily accommodating 100 guests (up to 150 seated, 350 standing). It features a full bar on one end and opens up to the lush and sunny Garden Terrace on the other end. You can open the doors to let extra light in and provide more space for mixing, mingling, and dancing.
Garden Terrace
Natural light pours into the skylights above the courtyard for a greenhouse atrium feel, while exposed brick and modern tiled floors elevate the space and add character.  Meanwhile, the adjoining cocktail space mimics a lush atrium overflowing with greenery framed with natural wood architectural elements.
The Cooper Room
A smaller downstairs space with a wine-cellar feel accommodates about 40-60 guests for intimate weddings or gatherings. Note: florals look amazing against the brick walls and romantic ambiance. The moody lighting at this venue is ideal for rich tones and emotive cinematic photographs. View an intimate wedding reception we photographed in the Cooper Room here.
Penthouse Loft
The Penthouse Loft showcases the most brilliant sunsets splashed behind the skyline. This intimate space feels open and spacious due to the walls of windows and crisp white walls. You get a rooftop feel with year-round luxury and comfort. (The windows open if you want a more open-air feel and weather permits.)
The Penthouse Loft is ideal for 60 or fewer guests and works exceptionally well for rehearsal dinners the night before. This luxury venue is a one-stop shop if you want to host all your wedding weekend events in one convenient location.
Learn More About the Venue & Photography Services
The Wythe Hotel is one of our favorite charismatic Brooklyn wedding venues to photograph. It's a beautiful canvas for your love story and personalized wedding vision. We would love to create wall-worthy art from your wedding day's details and heart-tugging moments. Get in touch to start planning with us.
Brooklyn Wedding Vendors
Photographer: Edward Winter / READYLUCK 
Venue: The Wythe Hotel
Planner: Venture North Events
Band: Atomic Funk Project
Florist: Kraft and Company
Hair: Natalia Akuratava
Makeup: Facetime Beauty
Stationary: Audrie Kapinus
Shoes: Manolo Blahnik
Dress: Eva Lendel
Tux: Alton Lane
Bride's Wedding Band: Ashley Mikal (London-based designer & former New Yorker)
Dancers: Freedom Dabka Group