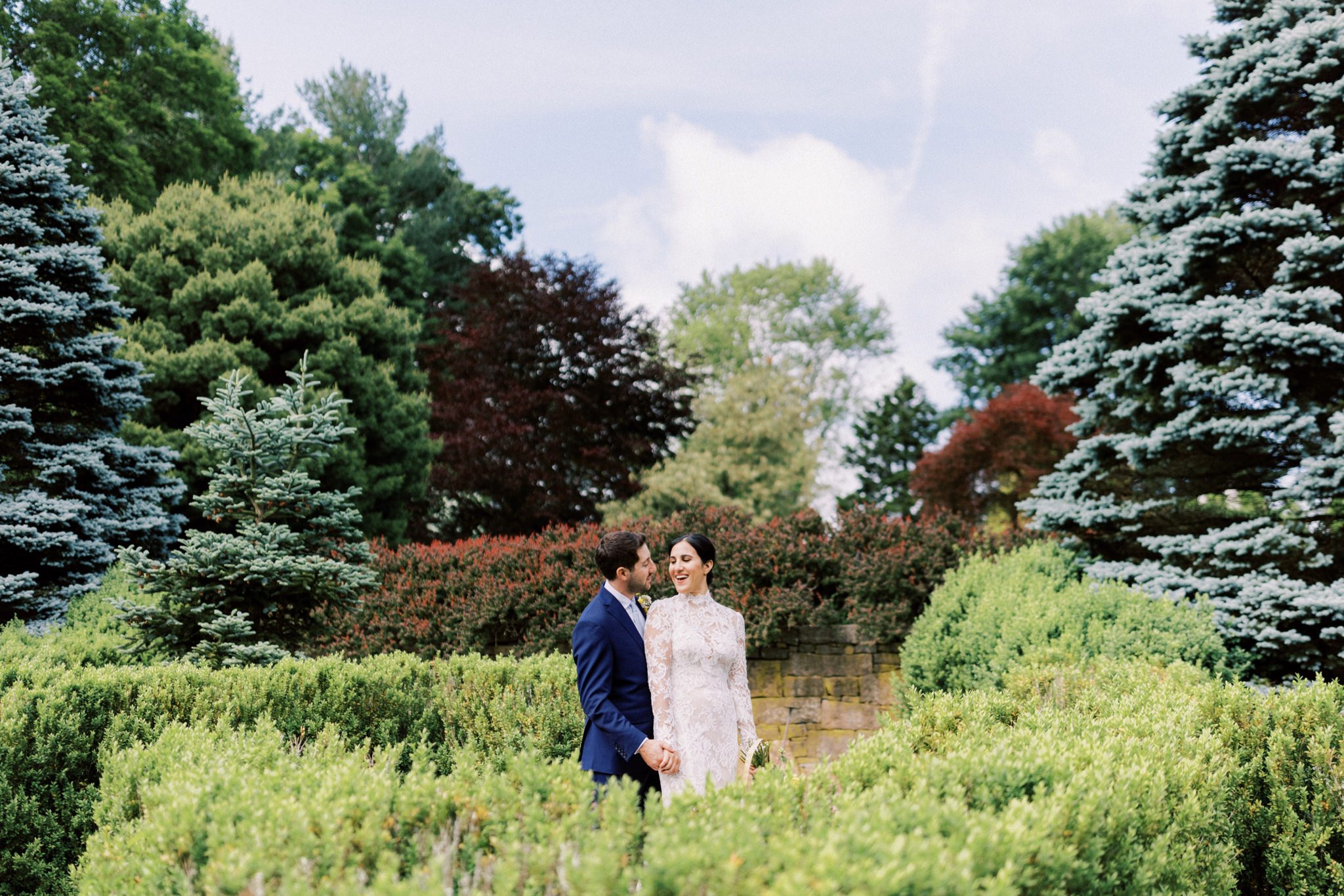 Share this on Facebook
Countryside Wedding at The Mayflower Inn
Sam and Palmer celebrated their union at the picturesque Mayflower Inn and Spa in Washington, Connecticut, this past June. In charming New England fashion, they began their special day getting ready in the resort's cottages. It was pure magic when Sam stepped into her elegant dress, assisted by her sister. The moment set the tone for the first look and portrait session in the budding Shakespeare garden. Then, the couple took some time to explore the manicured grounds. Of course, they had to pause for a nostalgic moment on the rope swing beneath a blossoming tree. The Garden Room patio offered a beautiful backdrop for group portraits. Just before their ceremony, they gathered around the couple to witness the ketubah signing (Jewish marriage contract).
The ceremony unfolded in the enchanting Shakespeare garden beneath the chuppah draped in hydrangeas, roses, and greenery arranged by Abby of Hellabloom Flowers. Abundant sunshine added a soft glow and warmth to their heart-tugging ceremony. After exchanging "I dos" and breaking the glass, everyone headed to the patio for the cocktail reception. As the live jazz band struck up a song, the festivities commenced! Meanwhile, Sam and Palmer enjoyed a quiet interlude in the Shakespeare garden before their alfresco dinner with speeches and toasts. Every part of Sam and Palmer's day felt so intentional and wrapped in love as their closest friends and family celebrated alongside them. Continue reading below their story to find out more about this fabulous wedding venue in the countryside of Washington, Connecticut.
Say 'I Do' at the Mayflower Inn & Spa: Unveiling the Perfect Country Wedding Venue
As part of the Auberge Resorts collection and located just two hours from New York City, the Mayflower Inn and Spa is a testament to luxury and refined hospitality. Wedding reservations and access to the resort necessitate a membership arrangement. Remarkably versatile, the resort offers an extensive array of dining, wellness, and accommodation options, with the added indulgence of secluded cottages across the premises.
Celebrate your special day surrounded by the picturesque beauty of the countryside at the Mayflower Inn & Spa. Nestled in the heart of idyllic Connecticut, this countryside wedding venue offers the perfect setting for a one-of-a-kind experience. From the moment you step through the doors, you'll be captivated by the timeless elegance and charm that permeates every corner of this New England retreat.
With its lush gardens, enchanting woodlands, and elegant event spaces, the Mayflower Inn & Spa provides the ideal backdrop for a romantic and intimate wedding celebration. Exchange vows in a beautiful outdoor ceremony bathed in the glow of the setting sun. Or, say "I do" in one of the beautifully styled indoor venues designed to reflect the refined European cottage aesthetic.
Professional and experienced staff will be with you every step of the way. Above all, they ensure every detail of your special day is meticulously planned and flawlessly executed. Imagine tasty menus crafted by world-class chefs and personalized wedding packages tailored to your unique vision. The Mayflower Inn & Spa leaves no stone unturned in creating the wedding of your dreams.
Wedding Packages & Amenities Offered by the Mayflower Inn & Spa
When planning your dream countryside wedding, the Mayflower Inn & Spa offers an array of wedding packages and amenities that cater to every couple's unique vision. Whether you envision an intimate elopement or a grand celebration, their experienced wedding planners commit to your vision.
The Mayflower Inn & Spa understands that every couple is different. So, they offer customizable wedding packages that can be tailored to your specific needs and desires. From the moment you begin planning, their team of dedicated professionals will work closely with you to consider every detail, from the linens to the audiovisuals.
In addition to their wedding packages, the Mayflower Inn & Spa also offers several amenities to enhance your wedding experience. The luxurious accommodations and premier spa services will leave you feeling pampered and refreshed. They have thought of every detail to make your wedding weekend unforgettable (as it should be).
The Mayflower Inn & Spa's Event Spaces & Capacity
The Mayflower Inn & Spa boasts a variety of elegant event spaces. Each one offers unique charm and ambiance. Whether you envision an outdoor ceremony surrounded by lush gardens or an indoor celebration in a beautifully styled venue, there is a space at the Mayflower Inn & Spa that is perfect for your special day.
For outdoor ceremonies, the Mayflower Inn & Spa offers a stunning garden setting that will take your breath away. Imagine saying your vows under a canopy of flowers. The sounds of nature will serenade you as you start your journey together. This enchanting space can accommodate small and large weddings, ensuring your ceremony is intimate and personal.
If an indoor celebration is more your style, the Mayflower Inn & Spa has a variety of bespoke event spaces to choose from. From the sophisticated ballroom to the charming cottage-inspired rooms, each venue is thoughtfully designed to create a warm and inviting atmosphere for you and your guests. With a capacity to accommodate up to 200 guests, the Mayflower Inn & Spa can cater to weddings of almost any size.
Planning Your Countryside Wedding at the Mayflower Inn & Spa
Planning a wedding can be overwhelming, but the Mayflower Inn & Spa is committed to making the process seamless and stress-free. Their team of experienced wedding planners will be with you every step, guiding you through the planning process and ensuring that every detail is taken care of.
From selecting the perfect venue, designing a personalized menu, coordinating with trusted vendors, and helping with accommodation arrangements, the Mayflower Inn & Spa's wedding planners are dedicated to bringing your vision to life. They understand that your wedding day is one of the most important days of your life, and they are committed to making it uniquely yours.
In addition to their wedding planning services, the Mayflower Inn & Spa offers additional services to enhance your wedding weekend. Relax with a pre-wedding spa treatment, and re-connect over a post-wedding brunch. At the Mayflower Inn, their care and hospitality go beyond the wedding day.
Additional Services & Activities for a Memorable Wedding Weekend
At the Mayflower Inn & Spa, your wedding celebration is not limited to the day of your ceremony. They offer a range of additional services and activities to ensure your wedding weekend is filled with unforgettable experiences for you and your guests.
For the bridal party, the Mayflower Inn & Spa offers luxurious spa services that will leave you feeling pampered and relaxed before your big day. From rejuvenating facials to indulgent massages, their team of skilled therapists will ensure that you feel your best as you walk down the aisle.
For your guests, the Mayflower Inn & Spa can arrange a variety of activities to keep them entertained throughout the weekend. Options include guided nature walks, bike rides, wine tastings and cooking classes. There is something for everyone to enjoy. The dedicated team can also assist with arranging transportation and accommodations for your guests, guaranteeing they have a seamless and enjoyable experience.
Why the Mayflower Inn & Spa is the Perfect Choice for Your Country Wedding
When choosing a countryside wedding venue, the Mayflower Inn & Spa stands out as the perfect choice. From its picturesque setting in the heart of Connecticut to its elegant event spaces, it offers everything you need to create a truly memorable wedding celebration.
Of note, the customizable wedding packages, experienced wedding planners, and range of amenities and activities make this a premier venue. Whether you dream of an intimate garden ceremony or a sophisticated indoor celebration, they have the perfect venue to bring your vision to life.
As you indulge in a seamless blend of luxury and nature, you won't want the wedding festivities to end. Say 'I do' at the Mayflower Inn & Spa, and let your love story unfold in the idyllic countryside of Connecticut.
Wedding Vendors
Florist: Abby Schmeichel of Hellabloom
Hair stylist: Jay Braff
Makeup artist: Janessa Pare
Tent & Linens: Amanda at Power Station Events
Venue: Mayflower
Bridal Gown: Monique Lhuillier
Shoes: Stuart Weitzman
Custom Suit: Stylist from Ari