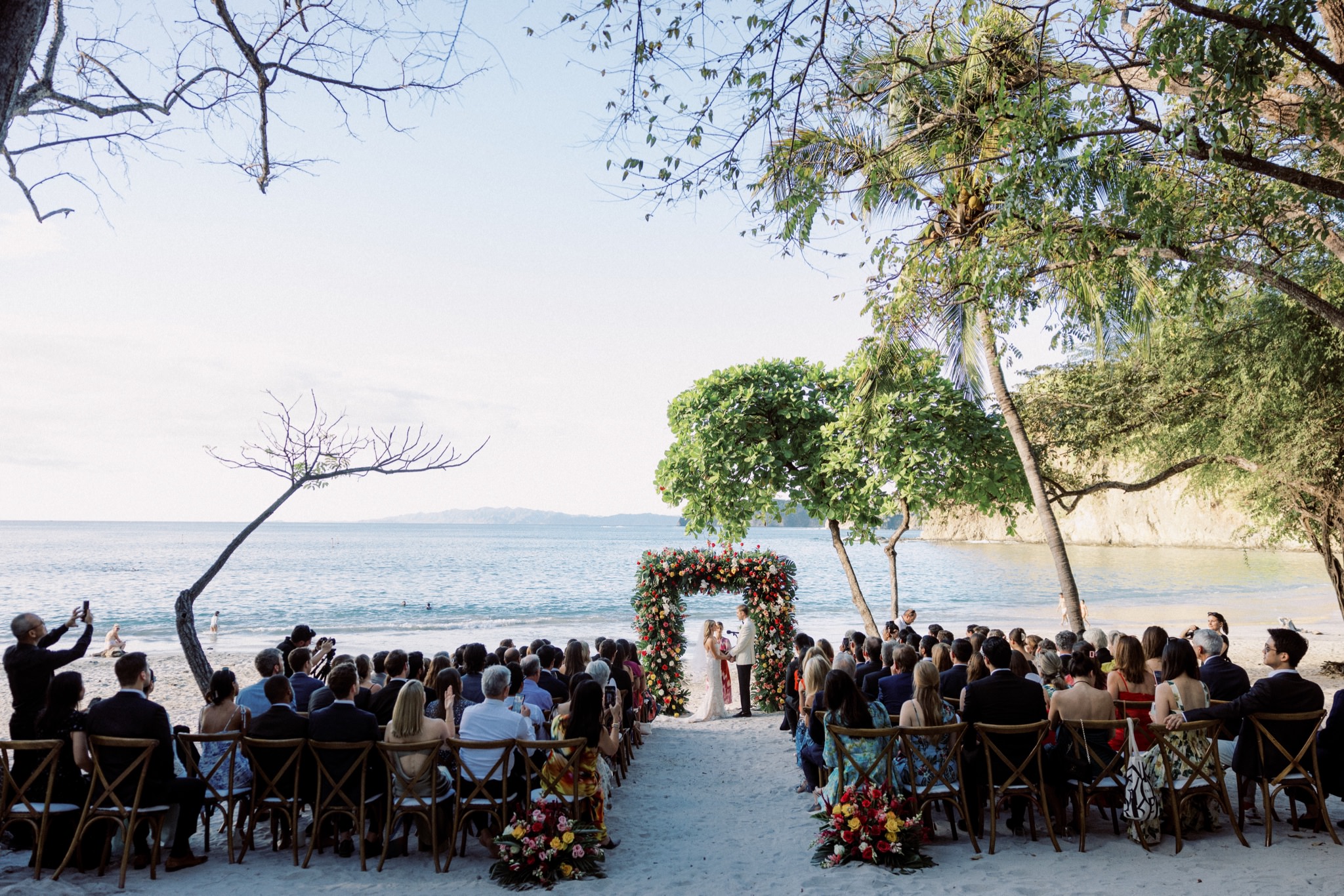 Share this on Facebook
Destination Wedding | Four Seasons Costa Rica Resort at Papagayo Peninsula
Olivia and Zach traveled to Costa Rica at the beginning of their romance, where they fell in love. Over the years, they invited their families and friends along for memorable vacations. Therefore, it was only fitting for their ideal wedding destination. They chose The Four Seasons Resort due to its prime location, stunning views, and romantic atmosphere. Their wedding weekend bash was a heartfelt and celebratory occasion. The festivities began with a day-long catamaran ride around the islands, swimming, water sports, and plenty of sun. Olivia and Zach kept the high energy of the weekend going into the small hours of the night, dancing the night away with their guests. It was truly an unforgettable experience!
Costa Rica Destination Wedding | Experiencing Pura Vida on Papagayo Peninsula
This tropical paradise invites both adventurers and lovers alike! Whether you're an adrenaline junkie looking for the next best wave or would rather cozy up watching a sunset, Costa Rica has something for everyone. It's no wonder Costa Rica is considered one of the top luxury destination wedding locations in the world! Lying on Papagayo Peninsula, a wildlife preserve, The Four Seasons is a 5-star resort that caters to travelers, wellness enthusiasts, and culinary explorers.
Unspoiled in its natural beauty, Costa Rica is a paradise of tropical jungles and sprawling beach coastline. Showcasing beautiful clean waters, you can catch glimpses of dolphins as you sail on a catamaran or spot local sea urchins while snorkeling. Pura Vida, which translates to "Pure Life," is what the locals say affectionately to one another. The phrase perfectly represents the lifestyle and the country's natural wonder.
The Four Seasons Costa Rica Resort at Peninsula Papagayo
Four Seasons Costa Rica Accommodations
This world-renown resort boasts posh accomodations with incredible views. Whether you are looking for a private stay for a large group or just a few people, The Four Seasons has you covered. Depending on your needs, you can choose from private residences, suites, or guest rooms.
Private Residences
There are 15 private residences to choose from at The Four Seasons resort. These are perfect for large groups and families or those interested in staying at home for a long-term stay. Each residence can hold anywhere from 3 to 12 adults (and children), and they each have a private kitchen, infinity pool, and gorgeous views of the crystal-clear ocean. It really doesn't get more luxurious than this!
Suites
There are four spectacular suites at The Four Seasons resort. These smaller accommodations work well for 3-6 adults and children. Each suite comes with multiple sleeping options, and you can also book a suite with an infinity pool and a completely furnished patio. These divine suites make you feel nestled in the tropical jungle while remaining close to the resort's restaurants, private beaches, and superb amenities.
Guest Rooms
Each of the three beautiful guest rooms can hold up to 3 adults or 2 adults and 1 child. You may choose either a king bed or two double beds based on your individual preferences. The rooms include beds, a private bathroom, a seating area, and an optional private terrace with views of the bay or ocean. You will truly feel like you are staying in a tropical oasis surrounded by world-class amenities and hospitality.
Four Seasons at Papagayo Peninsula Wedding Venues
After a peaceful night's sleep in one of the resort's exquisite accommodations, your guests will be eager to see what your wedding day holds at this premiere destination venue! The Four Seasons offers four featured venues that seamlessly accommodate your guests from the ceremony to the reception.
Playa Virador
This private beach is ideal for a romantic wedding ceremony right along the ocean. There is plenty of room for guests, and the seaside photos will be magnificent! Many couples also choose this location for a private cocktail hour.
Event Lawn
Looking for an area with less sand? This venue offers a vast green lawn ideal for hosting large groups. It also overlooks the beautiful Culebra Bay and connects to the resort's main ballroom. This space gives your wedding a more formal feel and is often used for the wedding ceremony or sit-down dinner.
Nemare Golf Vista Lawn
Another stunning venue location is right on the resort's tranquil golf course. With hills of pristine green grass and sunset views over the Pacific Ocean, this is the perfect spot for a charming wedding ceremony or formal dinner.
Armadillo Pavilion
This covered venue offers sun protection with notes of crisp ocean air. Located next to the main lobby, this is the perfect location for your al fresco wedding reception.
Additional Venues
Need additional rooms or space? The Four Seasons resort has ten conference-level rooms and five outdoor venue options. They are happy to help you find whichever venues will be most helpful for your dream wedding day!
An Conveniently Exotic Destination: Four Seasons Costa Rica Travel & Amenities
Located on the Papagayo Peninsula, this luxury resort is only a 40-minute drive from the Daniel Oduber Quiros International Airport (LIR). With quick, direct flights from New York City, your travel experience couldn't be any easier!
The resort provides an array of amenities, including but not limited to: a peaceful spa, golf course, fine dining, fitness center, water activities, wedding planners, shuttle and car services, excursions, medical staff, swimming pools, and so much more! Four Seasons Costa Rica offers a serene retreat you'll never want to leave.
With unparalleled service and ambiance, the Four Seasons Costa Rica resort offers an unforgettable experience filled with adventure, relaxation, and, most importantly, love. Getting to photograph Olivia and Zach's wedding weekend was an absolute dream, and we would love for other couples to experience this as well!
Contact our team to reserve your destination wedding date and details, and we would be happy to assist you in making your dreams come true!
Destination Wedding Vendor List
Venue | Four Seasons Costa Rica
Planner | Four Nineteen Weddings
Florist | Art Flower
Photographer | Jules Stevens at READYLUCK
Boat Party Fashion
Bride's Look | Hunza G swimsuit + Loewe cover-up
Wedding Fashion
Bride's Look | Custom Mira Zwillinger dress + Alex Birman heels
Bride's Second Look | Herve Leger fringe dress + Loeffler Randall platform heels
Jewelry | All custom and provided by a good friend's business, Heller Jewelers
Groom's Look | Custom white dinner jacket tuxedo and Jimmy Choo tux slippers