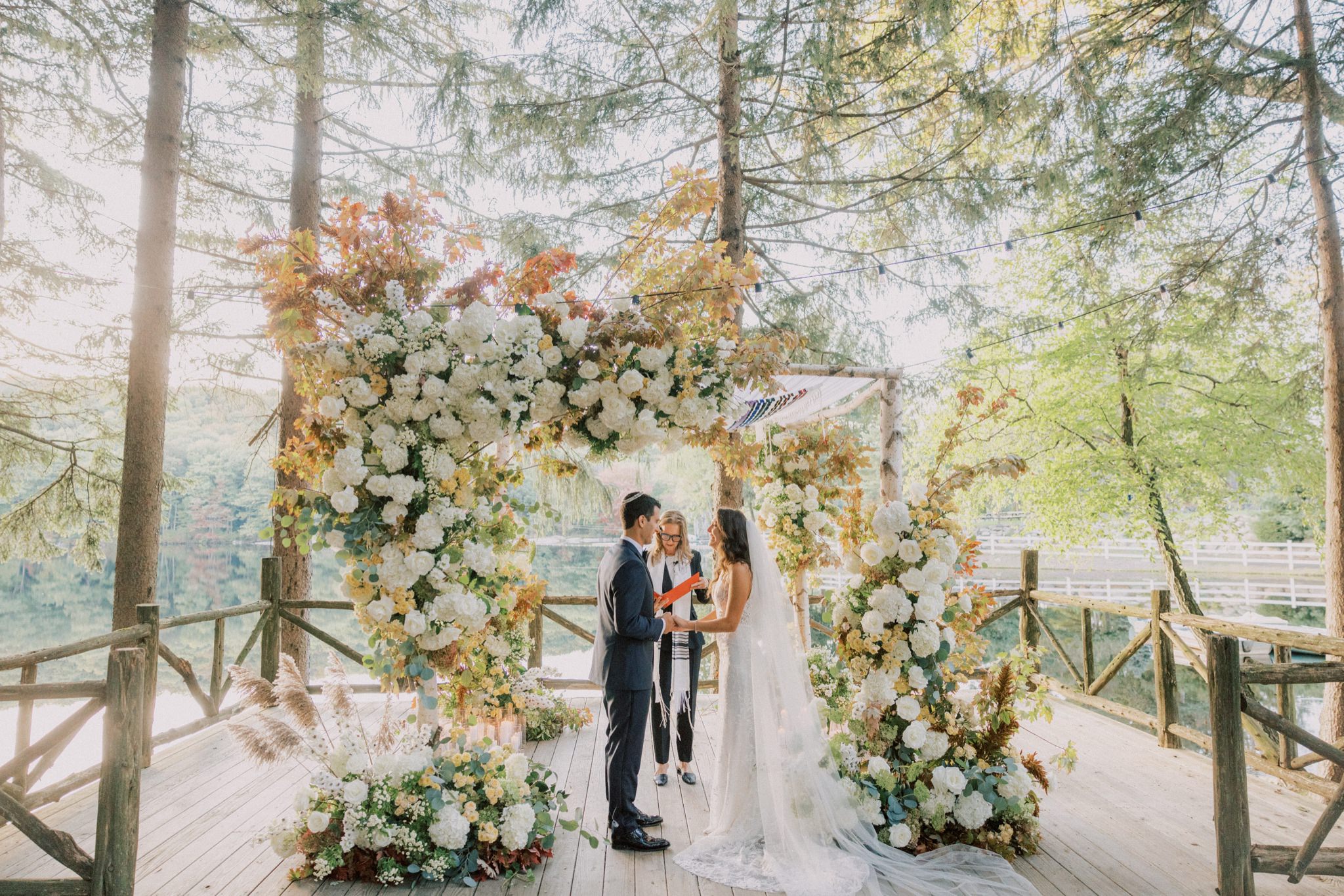 Share this on Facebook
Cedar Lakes Estate Wedding | Hudson Valley Wedding Venues
This Cedar Lakes Estate wedding in the heart of the Hudson Valley boasts the trifecta: early-fall foliage, perfect weather, and the most fun, photogenic couple from NYC you'll ever meet! Selecting the right venue for your big day is one of the most important parts of wedding planning. The event space, aesthetic, amenities, and service all play into your overall wedding experience. We can't think of a better upstate venue than Cedar Lakes Estate to host this magazine-worthy wedding day.
Cedar Lakes Estate Venue Aesthetic
Cedar Lakes Estate is the Hudson Valley family vacation home you never knew you had. In fact, that's how this venue began. Co-founding sisters Stephanie and Lisa have fond childhood memories of exploring these pristine woods and soaking up the lakeside sun. Later, the sisters combined their entrepreneurial passions to turn their beloved childhood retreat into a wedding and event venue people travel to enjoy.
More than a venue, Cedar Lakes Estate also specializes in culinary creations, premier event planning, and retreat hosting. All for the love of sharing, living, and celebrating the best parts of life. Nothing brings people together like weddings and good food!
The sprawling estate features a variety of landscapes. 500 acres of Shawangunk Mountain views, lakeshore vistas, green hillsides, and evergreen forests sprinkled with deciduous foliage create endless backdrops. The founders have curated and styled a handful of the best views on the property for ceremony setups.
Cedar Lakes Estate Wedding Packages + Amenities
-Event planning & day-of coordination
-Tables & chairs for each wedding event (ceremony, reception, etc.)
-Place settings—china, flatware, & glassware
-Bar & catering services (price varies)
-Sample menus
Cedar Lakes Farm-to-Table Dining & Catering
Lisa, one of Cedar Lake's co-founders, knows a thing or two about culinary arts. This French Culinary Institute valedictorian was determined to make Cedar Lakes catering complement the top-tier style and service, and she exceeded expectations. All food is made from scratch, with most produce coming straight from the garden on the property or from nearby farms. With ingredients on-hand, they can create customized menus with bold, flavorful farm-to-table culinary creations.
Complete the experience with a meal in the middle of the garden. A full-length farm table and a canopy of string lights make this garden patio pure magic.
Cedar Lakes Estate Event Spaces
Mountain Top Ceremony Venue
A beautiful green lawn with mature trees overlooks the valley and distant mountains.
Lakeside Ceremony Venue
The renovated deck and benches are as pictured in this featured wedding. The Lakeside venue shines in the summer and fall!
Open Pavilion
This year-round, climate-controlled space works well for cocktail hour. Stone floors, a built-in firepit, and string lights elevate the venue with ambiance.
Poolside Patio & Pool
Luxury meets country living. This stunning infinity pool pours over, overlooking the lake. Plush lounge areas, a romantic gazebo, and a built-in bar make the pool and patio a lovely summer venue!
Cedar Lakes Barn
This spacious 5,400-square-foot barn is the crown jewel of this grand estate. Most couples select the barn for their reception space. Full-length windows, rustic wooden walls, and dazzling chandeliers help transform your dinner and dancefloor into the perfect evening event space. A modern bar and large bathroom suites complete the rustic-chic venue.
Chef's Garden
Whether you're hosting an elegant garden party reception or love the idea of cocktail hour in the garden, this setting has both blooms and produce. True to its name, you can dine right next to the garden that provides the venue's delicious cuisine!
Cedar Lakes Estate Lodging
One of our favorite parts about this venue is that you and your guests can enjoy a long wedding weekend getaway. They have several overnight options to accommodate both couples and families. Meals and activities (with reservations) are included with many resort stays:
Sleepy Pine Cottages (Clustered)
These charming cottages look like a page out of a home and garden magazine. Tucked beneath the pines and leafy oaks, these 10 cottages have 1 king bed or 2 full-sized beds and a large bathroom and shower. These spacious cottages also come equipped with heat, A/C, cable television, high-speed internet, a mini fridge, and a coffee bar for the most relaxing stay. Food, drinks, and activities are available to guests upon request. This group of cottages is ideal for large families who want to lodge near one another.
Medium-Sized Cottages (Independent)
-Bluebird Cottage (under renovation Winter 2023)
-Lakeside Cottage (under renovation Winter 2023)
-Poolside Cottage
-Garden Cottages
Homes & Suites (Luxury)
If you'd like a bit more room to spread out for larger families, there are several beautifully decorated homes to choose from, sleeping between 4-12 guests.
-Main Farmhouse
-Patio Suite (Farmhouse)
-Field House
-Spruce House
-Maple House
-Birch House
Cedar Lakes Estate Cabins (Bunk-Style)
For a large-group, bunk-style stay (especially great for kiddos), the lakeside cabins provide an extra dose of mountain air and country living. But don't let the term "cabin" fool you. These modern lodgings include luxury bathrooms, glass showers, heat & A/C, towels, linens, and toiletries!
-Perch Cabins
-Sunfish Cabins
Cedar Lakes Estate Venue Review
This luxury all-inclusive venue has it all: scenic location, fantastic food, and impeccable planning and service. With the help of an amazing vendor team, this Cedar Lakes wedding was nothing short of extraordinary! It's no surprise this premier New York wedding venue has been featured in endless publications, including Vogue, BRIDES, the New York Times, People Magazine, Forbes, Martha Stewart Living, Cosmopolitan, and more! We were so impressed with the service, ambiance, and attention to detail, putting Cedar Lakes Estate at the top of our Hudson Valley wedding venue list.
More Cedar Lakes Estate Photos
Colorful Hindu Wedding at Cedar Lakes Estates
Simone & Charlie's Summer Wedding Featured in The Knot
Cedar Lakes Estate Rehearsal Dinner Photos
Elegant Fall Wedding at Cedar Lakes Estates
Cedar Lakes Estate Wedding Day Details
Venue | Cedar Lakes Estate⁠ | @thesistersofcedarlakes
Band | Hank Lane Music⁠ | @hanklanemusic
Planner| Nicole Sheppard + Wander Event Design | @allwhowanderevents
Rentals | Patina Rentals NYC | @rentpatina ⁠
Hair + Makeup | Willow House | @willowhouse.beauty⁠
Florist | Ivie Joy Floral Arts + Events | @iviejoyflowers